This is the last resting place of TOMMY ROSE, a Dulwich Hamlet player who died in the First World War.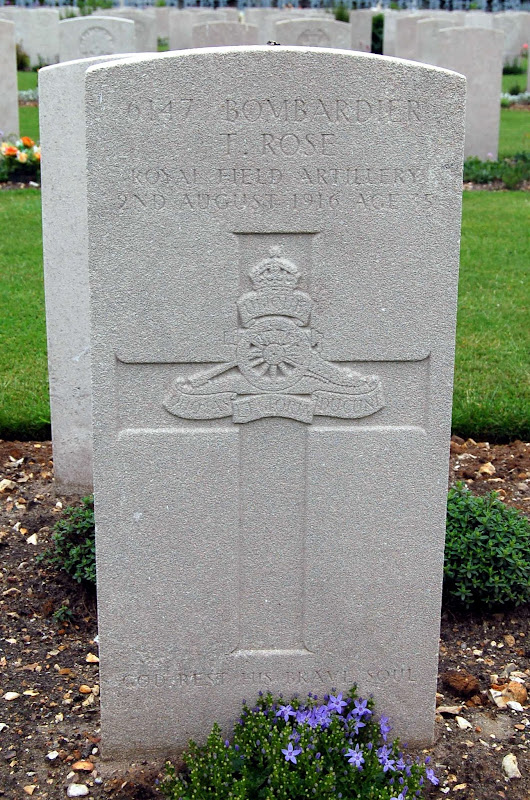 He is buried in St. Sever Cemetery, in Rouen; which is the capital of Normandy, in France.
Last weekend Mishi Morath, Paul Griffin & Mark Hutton visited the spot to pay their respects. The commorative book listing the fallen simply told us:
ROSE, Bombadier, T, 6147. "B" Bty. 156th Bde.Royal Field Artillery. 2nd August 1916. Age 35. Son of Alfred and Elizabeth Jane Rose. B.29.26.
The Commonwealth War Graves visitors book was signed in our names. Where it said 'address' we merely stated: Dulwich Hamlet Supporters' Football Team.
Under comments we simply left the message: TOMMY ROSE B. 29. 26. A PLAYER FOR DULWICH HAMLET FOOTBALL CLUB. REMEMBERED AT LAST!
We each lifted up some of the soil in front of his headstone & placed, in turn, a Dulwich Hamlet enamel badge, before covering them over. Forever this piece of foreign land will be part of Champion Hill. Myself & Paul then carefully pinned a Dulwich Hamlet scarf around the stone, with the word Dulwich facing outwards below his regimental badge & above the inscription at the bottom, whilst Mark looked poignantly on. Even though there was only the three of us there it was an extremely moving moment, & we felt we were paying our respects on behalf of you all, we know that even if the rest of our team was not there in person you were all with us in spirit.
Fittingly, next to the cemetery is the local football ground, home of Rouen, who compete in the same division as our friends from Red Star. It somehow seemed like just the right spot for him with the floodlights towering over. If the fixtures fall well I plan to go back there to watch them there. If anyone would like a weekend away, & pay their own respects to Tommy Rose at the same time let me know & we can sort something out when the French CFA (fourth division) fixtures are released for next season.